AN EXPERIENCED DEVELOPMENT TEAM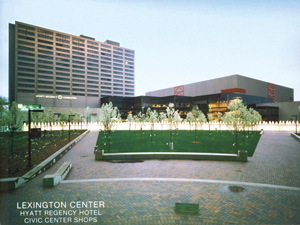 Lexington Center, Lexington, KY
Working over the course of three and one half decades on virtually all product types of real estate, with some of the finest land planning, engineering, legal, financial, construction, brokerage and other firms throughout the U.S., while studying hundreds of the most exciting projects ever developed or evolved on six continents throughout the world, Buckwalter Commercial personnel have been and continue to be uniquely qualified and inspired to handle the opportunities and challenges at Buckwalter.
The Team continues to be truly blessed to have a creative team of governmental, financial, environmental and educational visionaries, technological leaders, consultants, and other supporters who truly understand, appreciate and desire to help form and be an integral part of the forward looking holistic vision of Buckwalter.
Based in Bluffton, Buckwalter Commercial personnel are uniquely qualified to formulate and implement the critical commercial components of its Buckwalter holdings. Key personnel were fortunate to have helped create a diverse group of quality developments in some of the most dynamic, forward thinking regions in the U.S. over the past 35+ years.
Typically, as President, COO and/or managing Partner of the ownership entities, Buckwalter Commercial personnel have had full operational authority and responsibility for more than two and one half decades with all functional activities of real estate including its acquisition, development, redevelopment, leasing, marketing, financing, administration and sales.
Geographically, the projects have been located in states throughout the United States including California, Utah, Arizona, Texas, Florida, Georgia, South Carolina, North Carolina, Tennessee, Kentucky, Michigan and Pennsylvania, enabling Buckwalter Commercial personnel to have a national perspective to complement their strong regional understanding.
Property types have included large scale mixed use communities and PUDs, high quality mixed-use, hospitality, downtown and suburban retail, downtown and suburban office, entertainment, flex space, medical, financial, warehouse, industrial, distribution, R&D, educational and other institutional, timber lands, recreational parks, private/public partnerships, as well as water, mineral and timber rights.
This diverse expertise with multiple product lines requiring different approaches and skills enables Buckwalter Commercial personnel to help provide the vision, strategic direction and investment policies necessary to quickly shift priorities and business lines and nimbly adjust to the ever changing real estate markets and dynamics.
The Team is also one of the few in the Lowcountry with this breadth and intensity of experience on all sides of all transaction types. Whether for their own accounts, as partners, or as the principal designated representative, the key personnel provided hands-on representation in negotiations on behalf of:
Both buyers and sellers on countless commercial and land purchase/sale transactions
Both landlords and tenants on hundreds of commercial lease transactions
Both the development partners and money partners in numerous partnerships, JV's, LLC's
Both borrowers and lenders on $100's of millions of private and public financings
Both lenders and borrowers on $100's of millions of workout and/or other challenged properties
The private sector on PUDS, rezoning, annexations, permitting, condemnation proceedings, and significant private/public partnerships
Numerous Fortune 500, startup, and other organizations in other business lines.
Buckwalter Commercial, LLC's personnel understand, appreciate, and are committed to serving the needs of the region. With strong academic, operational, institutional and entrepreneurial foundations and backgrounds in finance, investments, law, and engineering the Team has a proven track record with the art, science and business of incorporating high quality commercial into large mixed-use communities. The Team is also active with numerous economic development and diversification, technology, educational, environmental, entrepreneurial, international and planning initiatives at the Town, County, region and beyond. Their full attention, expertise, and hands on approach toward implementation is available to help make the vision for its Buckwalter holdings a reality.
INCEPTION OF BLUFFTON BASED OPERATIONS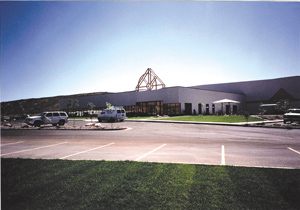 Mikohn Gaming Building
In 1999, Tom Zinn moved to Bluffton and joined with two other partners to eventually form RRZ LLC, whose related companies purchased Belfair, a private golf course community which was under development in Bluffton, South Carolina, developed the high quality residential communities of Berkeley Hall and Hampton Hall, and acquired 4,300 acres of the Buckwalter Tract.
Mr. Zinn assembled a small team of highly qualified and motivated individuals operating as Buckwalter Commercial, who devoted most all of their effort to the acquisition of and numerous other predevelopment and development activities associated with the 4,300 acres of the Buckwalter tract prior to the spin-off of acreage to unrelated and related parties, while continuing to manage all real estate activities on 5,000 acres in Hurricane, Utah and some relatively passive other real estate investments.
Since its inception, the Team's vision has been to establish Buckwalter as the most extraordinary, exciting and revolutionary PUD anywhere in the Lowcountry and Buckwalter Place as the heart and soul of the Buckwalter PUD.