A DIVERSE, INCLUSIVE MASTER PLAN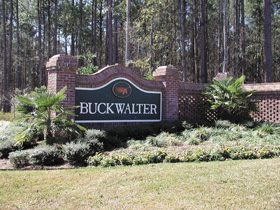 Buckwalter Entrance
The keys to success for most planned unit developments (PUD) include location, accessibility and interconnectivity, anchors, rooftops, environmental sustainability, and technology. The vision and the master plan for the Buckwalter PUD and the Buckwalter Commercial holdings have all of these and much, much more.
A MASTER PLAN THAT SPARKLES
RESIDENTIAL COMMUNITIES:
The Buckwalter Commercial Team is committed to continue to encourage and/or provide a wide range of housing options and choices. Presently, the Team is working on a residential urban experience unique to Bluffton to complement the sixteen communities already completed or well underway on or near Buckwalter Parkway, including seven by the nation's leading homebuilders (i.e. Centex, DR Horton, Toll Brothers and Hovnanian):
Baynard Park

(Centex)

The Farm

(DR Horton)

Woodbridge

Shell Hall

(Laurel One)

The Townes at Buckwalter

(Portrait Homes)

Pinecrest/PineBridge

(Centex)

Edgefield

(DR Horton)

Sandy Pointe

Rose Dhu Creek

(Legacy)

Hampton Lake

(Reed Development)

Parkside

(Centex)

Lawton Station

Arborwood

The Reserve at Woodbridge

(The Lane Company)

Hampton Hall

(Toll Brothers)
In addition, 17 other communities (including Sun City by Pulte Homes, Berkeley Hall, Rose Hill, Eagle's Point, Island West, Belfair, Old Carolina, The Crescent, Grande Oaks, The Estate at Westbury Park, Gascoigne Bluff, May River Plantation and Palmetto Bluff) lie adjacent and/or within 2 miles of Buckwalter. More than 6,500 homes are planned in the Buckwalter PUD alone, with construction significantly ahead of schedule. Construction in communities surrounding the PUD will at least double these amounts.
COMMERCIAL DEVELOPMENTS
The plan for Buckwalter also calls for a wide range of balanced businesses, services and amenities designed to provide residents of the Buckwalter PUD, neighboring areas and visitors the full scope of urban conveniences. The plan features Buckwalter Place, a 94 acre mixed-use urban center in the center of over 400 acres of entertainment, shops, restaurants, financial, and other commercial properties to give residents and the expansive tourist population a 'special place' unlike any other in the Lowcountry.
After 3 years of effort, significant expense, and very material progress toward creating a unique vision and accomplishing its goals, Buckwalter Place is now fully entitled with multi county business park status to facilitate funding certain capital projects. It also has business park status under the PUD, and general commercial zoning, overlayed with entitlements to have an additional 866 residential units. Initial completed developments include a Publix anchored shopping center and a 49,000 square foot building occupied by CareCore National. A commercial/entertainment core, a technology village, a medical care center, a hospitality component, and walkable compact residential neighborhoods are anticipated to further enhance this development.
In addition, the Team is developing Buckwalter Crossroads, with 2+ miles of frontage on SC Route 170 and the Bluffton Parkway, which promises to be the most dynamic commercial project in Bluffton and Woodbridge Commons and The Townes Commons which promise to be unique commercial complements to the Buckwalter experience. Various other commercial projects are in different stages of development.
Other community-oriented projects in place include: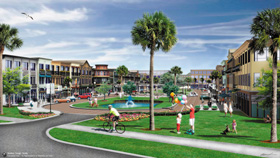 Plaza of the Lowcountry
Buckwalter Place
Bluffton K-12 school campus
Two private schools (Hilton Head Christian Academy and the Church of the Cross Episcopal School)
Three churches (Lord of Life Lutheran Church, Church of the Lowcountry and Church of the Cross)
A 100-acre regional multi-purpose park with all the amenities (soccer and three baseball fields, tennis and other active recreation)
Bike and walking paths for additional interconnectivity
The 120-acre potentially extraordinary Okatie Regional passive park showcasing the biodiversity of the Headwaters of the Okatie River (one of only two river headwaters systems in southern Beaufort County)
Sea Turtle Cinemas with its numerous adjacent shops and restaurants
ACCESSIBILITY
The Buckwalter PUD has unmatched accessibility to Route 170, Route 46 and to the area's major access road, U.S. 278, that runs from I-95 just eight miles to the west to Hilton Head Island just six miles to the east. The four lane Bluffton Parkway and four lane Buckwalter Parkway through Buckwalter provide excellent interconnectivity in the heart of the Buckwalter PUD. Additionally, existing roads are planned to be further interconnected and more infrastructure is in the planning stages.
CUTTING EDGE TECHNOLOGY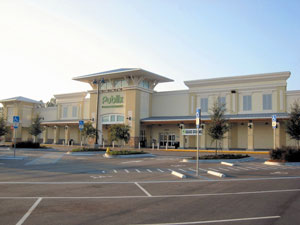 Publix at Buckwalter
Since its inception, the vision is to have Buckwalter set the pace for the anticipated technological revolution in the Lowcountry. Buckwalter is being designed as a place for the techno mavericks who will be implementing technologies into the homes and businesses of the region and for those applying their specialized expertise in cutting edge technologies to their customers worldwide.
Businesses, consumers, students and residents in Buckwalter will enjoy the advantages of the very best in technology. Six of the communities, (i.e., three at or surrounded by Buckwalter; Hampton Hall, Hampton Lake and Sandy Point, as well as three nearby; Heritage at New Riverside, Mill Creek, and Palmetto Bluff) are already providing fiber optic cable to every home. Indeed, fiber lines will be available throughout the entire PUD. The Bluffton School Campus has the region's first Hi-Tech High School. All the students have access to laptops and high-speed wireless capabilities assisted by computer proficient instructors. With fully-operational wireless capability, this K-12 campus is the technological template for the State of South Carolina.
The Lowcountry's first Technology Park is in Buckwalter Place. Strategic alliances with Palmetto Electric providing reliable power to Buckwalter Place, and with all the educational institutions in the region including potential linkages to the new USCB campus, which is just two miles from Buckwalter Place, are in the works.
In addition to all of this, more announcements positively impacting Buckwalter's technological environment are anticipated soon.